WASHINGTON — The trend the Cardinals are trying to stem by trading for at least one reinforcement is the one that continues to tax the bullpen.
As the innings mount for relievers, ruptures happen.
Cardinals starter Dakota Hudson made his return to the rotation but left almost half of the game for the bullpen to hold. The lead the relievers inherited vanished in the flash of Josh Bell's bat, and the Cardinals' late rally was not enough to overcome that, losing, 7-6, on Saturday night at Nationals Park. Five of the seven runs Washington scored came against the bullpen, four against lefties Packy Naughton and Genesis Cabrera.
Each of them was brought into the middle of an inning to cover outs that another pitcher could not, and in each case the inherited run scored.
Cabrera entered with a runner on first after a hit batter in the seventh inning and a one-run lead to hold. He walked outfielder Juan Soto, who reached base three times with a walk and singled once. The next batter, switch-hitter Bell, connected on a changeup that erased the Cardinals' lead and had them playing catchup the rest of the game. Nelson Cruz had put Washington within reach two innings earlier with a two-run double off Naughton. The lefty was in the game to face the right-handed hitting veteran when Hudson came two outs shy of completing the fifth — and the snowball started to roll.
DeJong's back with a bang
A few hours after dealing Edmundo Sosa to Philadelphia opened a spot on the roster for Paul DeJong's official return to the Cardinals' active roster, the former All-Star was in the lineup.
And he's going to be there for a run.
"I want to see him play short for several games and see what it looks like, just lay eyes on him," manager Oliver Marmol said before the game. "We're our best when he's Paul DeJong. That's how we set out at the beginning of the season. It will be really good to see him live, in action."
DeJong entered the game with his .130 batting average from May still affixed to his name in the lineup, but with each passing inning he showed what more than two months at Class AAA Memphis did for his confidence, his consistency. He looked familiar, steady at shortstop, and then connected for the power the Cardinals have wanted to see for months. DeJong turned on a 1-1 pitch in the fifth inning to snap a 1-1 tie with his second homer in the big leagues of the season. He hit his previous homer on April 9, the second game of the season.
He had 17 homers at Triple-A.
Bookended around the homer, DeJong grounded out, and he struck out in the sixth with a runner in scoring position. He has deftly handled shortstop, where his return will create some movement in the lineup elsewhere. Tommy Edman returns to second base, where he won a Gold Glove Award, and that cast Nolan Gorman at designated hitter for Saturday.
Marmol's compelling choice
In the eighth inning, as the Cardinals mounted a potential game-turning rally, DeJong played a featured spot in a decisive moment for manager Marmol. Two singles and a walk loaded the bases with one out for DeJong's spot in the order. Marmol had left-handed hitter Brendan Donovan on the bench and Washington had right-handed reliever Kyle Finnegan entering the game. The option was there.
Marmol stuck with DeJong.
He opted to save Donovan to pinch-hit for catcher Andrew Knizner if the inning continued. That meant the manager preferred the DeJong-Donovan tandem to hit in the inning ahead of the Donovan-Knizner track. Finnegan's appearance added some spice because he has reverse splits with right-handed batters slugging far better than lefties, .454 to .355.
DeJong lifted a fly out to center to score a teammate for his third RBI of his return game. That narrowed the Nats' lead to 7-6. Donovan tagged a ball deep to center — for the final out of the inning.
O'Neill out with leg soreness
Washington's lack of a bipartisan bullpen — there are only right-handers out there — has given Marmol some license to give the lineup a new look.
Left fielder Tyler O'Neill hit second in each of the starting lineups so far this weekend, and idea is to get him pitches ahead of MVP-caliber hitters Paul Goldschmidt and Nolan Gorman. Or, that was the idea until he threw a catch into it after four innings. O'Neill left Saturday's game with leg cramps, replaced by veteran Corey Dickerson. O'Neill returned a few weeks ago from a hamstring injury that put him on the injured list, and he's twice been on the IL already, once with a setback due to a hand injury.
After the game, O'Neill allowed that the recent injury made him cautious when he felt his legs tighten up.
"It just kind of came on — the cramping and stuff going on," O'Neill said. "Precautionary. Trying to take care of me in there, get some rest, and be ready to go, as soon as possible."
O'Neill's stop, start, stop, start again, stop staccato to the season has been part of the Cardinals troubles striking a consistent offense throughout the lineup.
A year removed from hitting more than 30 homers, O'Neill entered the weekend with five because of all the time missed.
"In order for us to do what we need to do, Tyler is going to have to be Tyler," Marmol said. "Hitting in front of Goldy and Nolan allows him to see more pitches that favorable. So our hope is that he gets going."
Their hope a few innings later was that he gets back.
Hudson's return brief, familiar
When last the Cardinals saw Hudson start, he was authoring his second consecutive six-inning appearance and starting to show improved success with a shift to one of his pitches. Hudson altered the use of his cutter so that it had greater depth, broader sweep, and thus became a slider — a pitch he could use to get strikeouts.
If, that is, he could get strikes with his fastball.
Back from a short stay on the injured list with a stiff neck, Hudson had a minor-league rehab appearance that featured three walks. Walks have complicated his starts in the majors, too. They helped abbreviate his start Saturday. Hudson walked two, hit another batter, and he could not complete the fifth inning. The fourth hit he allowed chased him from the game just after the Cardinals had provided a three-run lead.
One of the causes for concern about his stiff neck was a dip in velocity. His fastball got back up to speed in Saturday's game, but that slider — the pitch the Cardinals think he can feature — revved at 5 mph below average. He got 13 swings on it, and only two misses. Hudson didn't minimize the damage during his innings. The allowed two runs total, but the one that came while he was on the mound was a solo homer.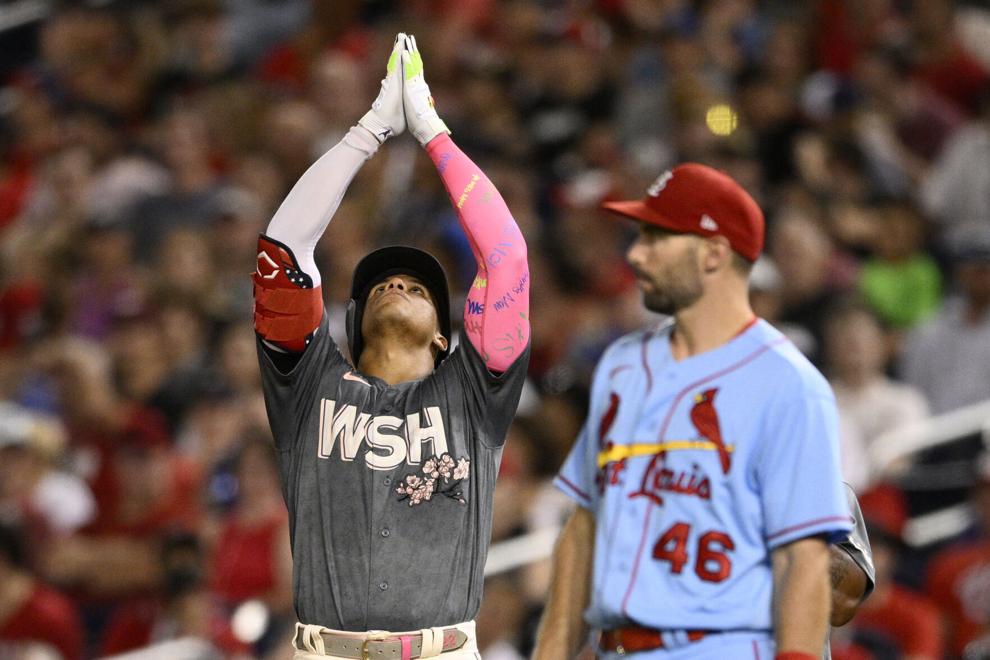 Photos: Cardinals drop second game of road series at Nationals
Cardinals Nationals Baseball
Cardinals Nationals Baseball
Cardinals Nationals Baseball
Cardinals Nationals Baseball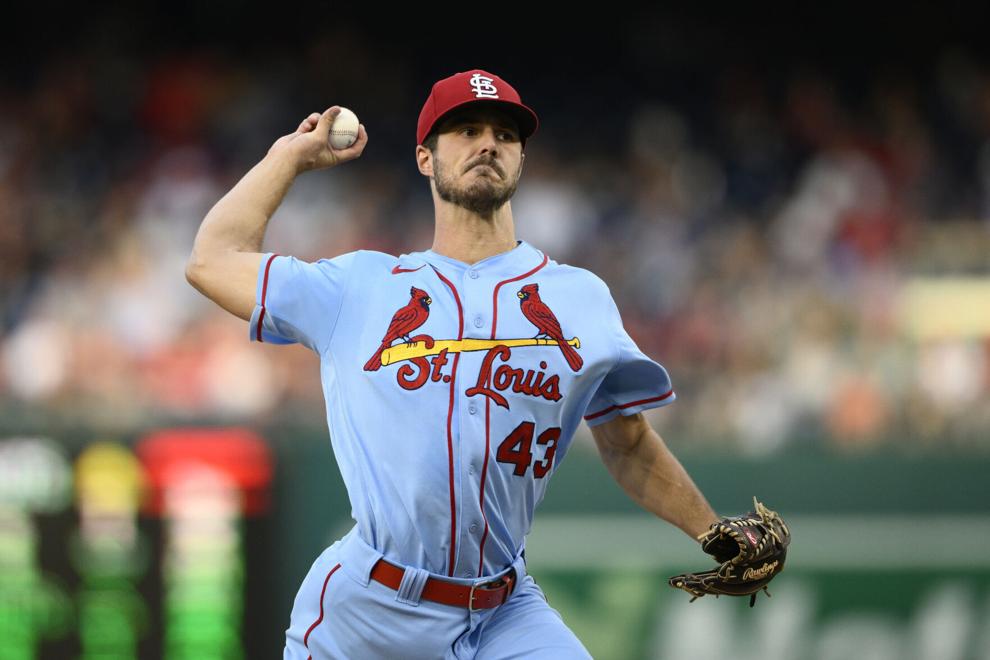 Cardinals Nationals Baseball
Cardinals Nationals Baseball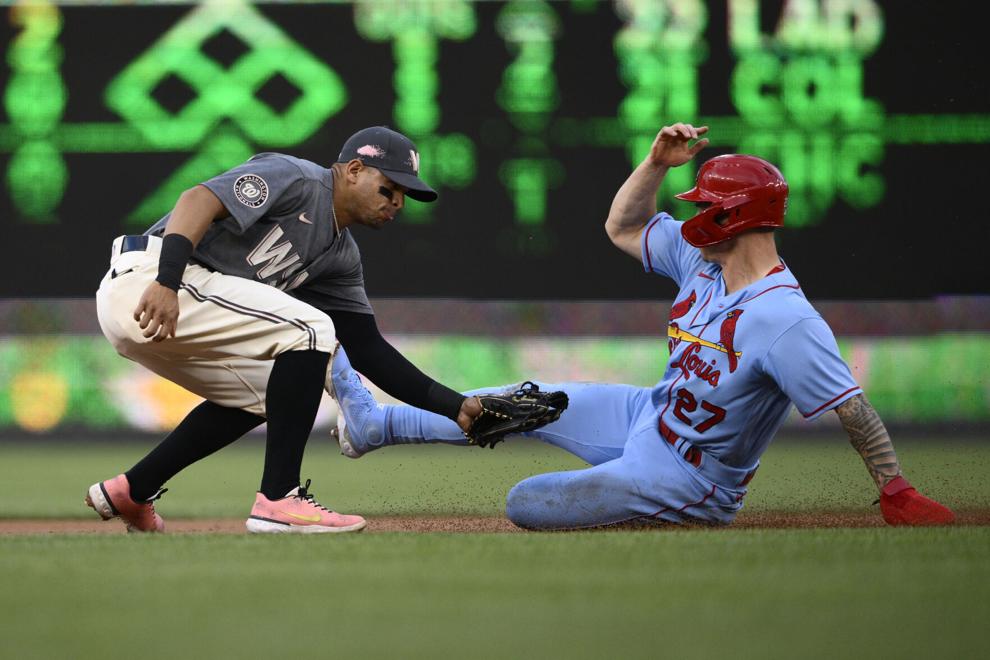 Cardinals Nationals Baseball
Cardinals Nationals Baseball
Cardinals Nationals Baseball
Cardinals Nationals Baseball
Cardinals Nationals Baseball
Cardinals Nationals Baseball
Cardinals Nationals Baseball
Cardinals Nationals Baseball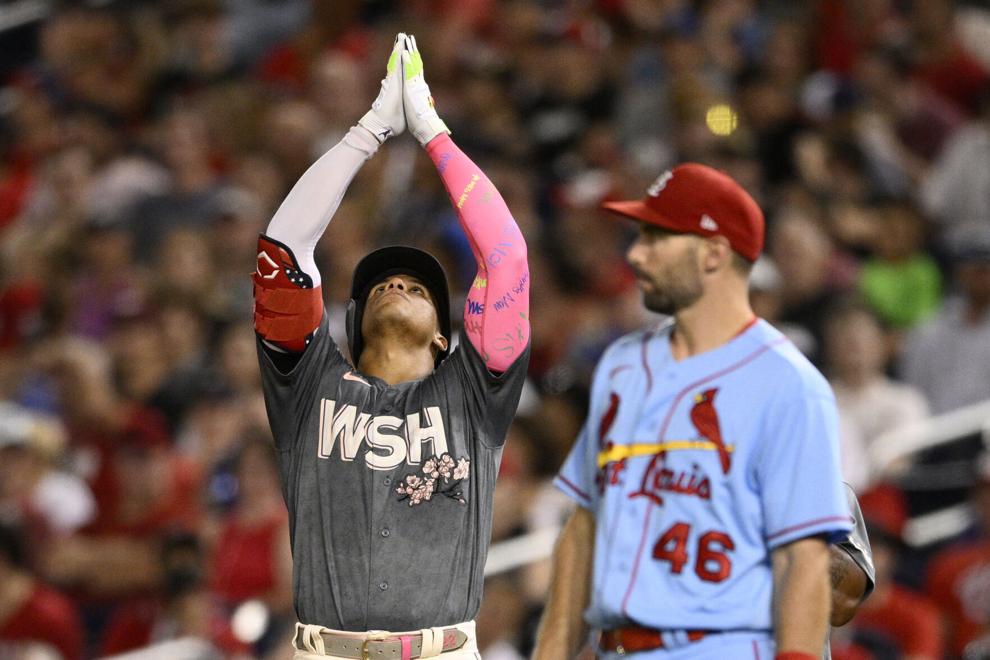 Cardinals Nationals Baseball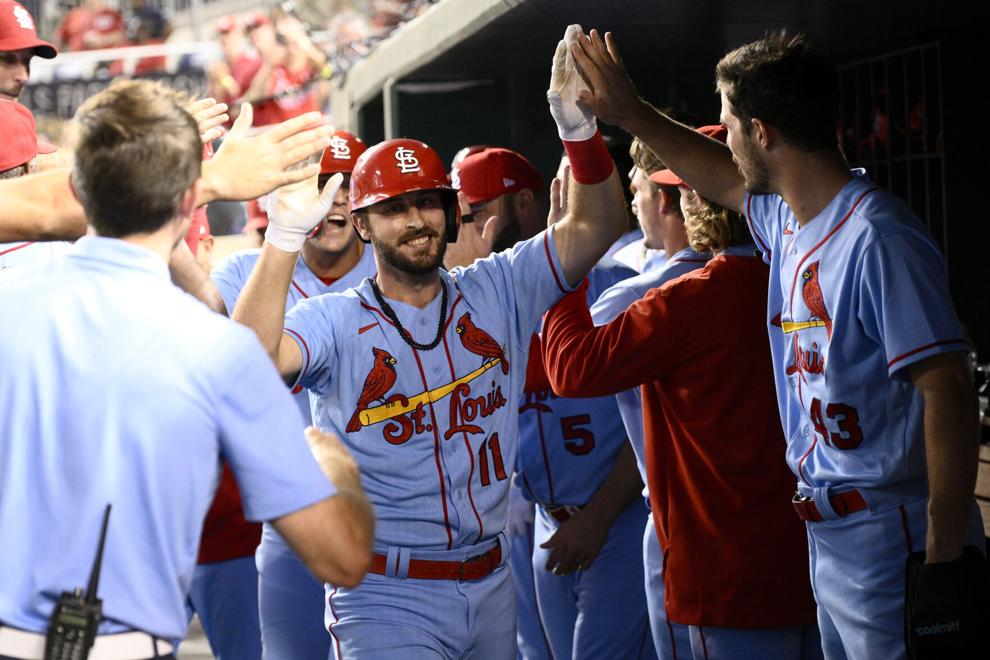 Cardinals Nationals Baseball
Cardinals Nationals Baseball
Cardinals Nationals Baseball
Cardinals Nationals Baseball
Cardinals Nationals Baseball
Cardinals Nationals Baseball